Start at the Beginning
Categories: Blog Jun 01, 2015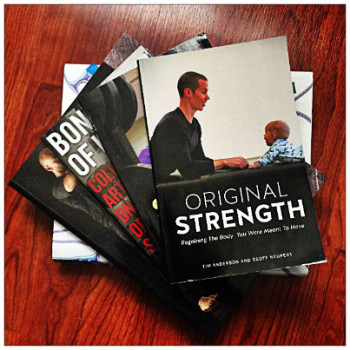 Have you ever skipped to the end of a book to know how the story would end? Are you one of those people who reads the last chapter first? Some people do this. One of "problems" with skipping to the end of the story is that you may miss some very important character development details about those in the story. Sometimes the characters that don't even make it to the end of the story are the ones you would have loved the most.
When it comes to moving, many of us want to skip to the end of the story. We want to be able to run a 5K after being idle for 20 years. We want to be able to perform pull-ups without ever even hanging around and getting used to having our weight pull down through our arms. We often want to get to the end of our strength journey without developing the character of our strength.
This is why it is so important to spend time on the ground learning how to develop our strength. We should spend time Pressing Reset in order to establish the solid movement foundation we need to be able to fully express all the wonderful movements and feats of strength we want to be able to do at the "end of the story."
Our strength journey is not just the ending we have in mind; it is not just the new goal we come up with. It has to be developed along the way. Even if a person did begin a very logical, well structured running program to be able to complete a 5K, their performance will never be as good as it could be without a solid foundation of strength. You can run a 5K on a faulty foundation. You can do pull-ups in a body that really shouldn't - yet. If we want to really optimize our performance and truly enjoy the physical expressions we were designed for, we need to develop, or rebuild our original strength. We need to develop the character of our strength.
I do believe we should all be able to run, to jump, climb, do pull-ups, conquer mud runs, and whatever else we fancy. But we should also own every facet our our movement in order to do all these things well. We should develop and own our mobility, our stability, our fluidity, and our beginning, foundational strength.
Don't skip to the end of the journey. Start at the beginning. Good books are worth reading over and over again. The beginning of the story is often the most important part. Enjoy your whole journey. Start where you are, don't start where you want to be.
---