Reset, Restore, Rejuvenate – The Magic of the Original Strength System
Categories: Stories Jan 23, 2014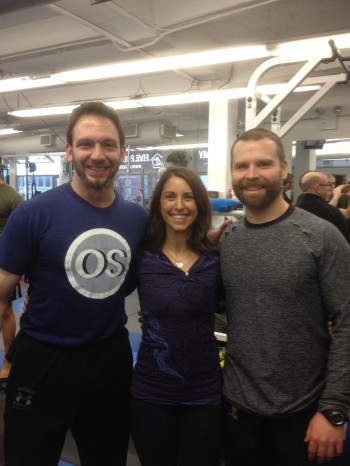 My
Iron Body Studios
co-owner
Eric Gahan
and I(
Artemis Scantalides
) recently attended an Original Strength Workshop at
Five Points Academy
in New York City. This particular workshop was one of the most well attended Original Strength workshops that Original Strength Systems has held and I was very pleased to see an almost equal balance of men to women. Often in this industry the men out number the women, so to have an equal balance is not the norm and very refreshing to see. The other fantastic aspect of this workshop was that many of us were colleagues from previous learning engagements or certifications. Therefore it was a very comfortable atmosphere within which to learn and practice the Original Strength System.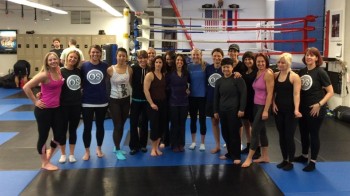 After the workshop
Sarah Young
, LMT and Personal Trainer, approached me and asked me if I would collaborate with her on a testimonial for Original Strength Systems. The intent of this collaborative testimonial between Sarah and myself was to help represent a woman's perspective and how the Original Strength System and the workshop helped us as women. After I finished writing my "portion" of the testimonial, Sarah encouraged me to share it on its own. She thought that no part should be should be omitted and that it was representative on its own. Therefore, per Sarah, here is my testimonial…
For those of you who are not familiar with the Original Strength System, it is a restorative system developed by Tim Anderson and Geoff Neupert that helps us as humans to restore our bodies back to their original functionality. Per Geoff Neupert, "Original Strength seeks to restore our bodies to the performance state - the state in which we once were, the state in which we were designed to live, perform, and even thrive."
In this age of technology and the internet, we are moving less and less. We are sitting far more than we need to, in our cars, at our desks, in front of the television, etc. With all of this lack of movement we are losing our Original Strength. The Original Strength System helps us to restore our Original Strength and to move the way we did when we were babies and toddlers. We were born perfectly wired and we lose it as we grown into adulthood and we stop rolling, rocking, crawling, playing, and walking as often as we should. Original Strength helps us to re-wire these innate patterns.
The Original Strength System teaches eye opening information and is a game changing system. It is simple for trainers and coaches like myself to implement, tangible for clients to understand, and most of all, extremely effective.
Why do I believe in OS and how did it help me?
Since May 2011, and particularly over last year 2013, I was working towards a very challenging strength goal for someone my size (61 inches tall and an average weigh of 115-118lbs), the Iron Maiden Challenge. The Iron Maiden Challenge is pull-up, press, and pistol squat (one legged squat), with 24kg (53lbs), almost half of my bodyweight. I gained a tremendous amount of strength, training for this goal and actually reached the goal of a pull-up, press, and pistol squat with the required 24kg. However, the press was not as strong and smooth as it should have been nor as I would have wanted it. When I attempted the Iron Maiden Challenge at the end of September 2013 I missed the press. With all of my hard work and with the other two lifts so strong and seemingly effortless, how did I miss the press? I went home with work to do. After my attempt I worked on re-patterning my press. I also continued to work on my handstand push-up because I knew that if I could do a handstand push-up then my press strength would increase. However, my limitations with my press are not simply about strength. I successfully re-patterned my press and now I need to rebuild strength on top of that new pattern. In addition, at the Original Strength workshop, I learned that even more may need to be "reset" for me to have success with my press.
Iron Maiden Challenge Attempt 9/27/13 - 24kg (53lbs) Pull-up
Iron Maiden Challenge Attempt 9/27/13 - 24kg (53lbs) Pistol Squat
On the first day we spent the whole morning working on breathing and head nods. At lunch I asked a colleague of mine and an Original Strength Specialist,
Josh Halbert
, if he would look at my handstand push up to see if there was any feedback he could give me to help me get my head closer to the floor. At that time, the lowest that I could get my head to the floor was about 3 inches from the floor. I kicked up to the wall to show Josh my handstand push up, and BAM, I gained so much range of motion that my head just about touched the floor and my handstand push up felt stronger and smoother than it ever had. It was definitely a "What the heck??" moment. Thanks to spending all morning working on Original Strength resets of breathing and head nods, I achieved a handstand push up. It was amazing. Also, I discovered that I could touch my chin to my chest. I know this sounds so simple, like "Can't everyone do this??" but no, it's not that simple. Everyone should be able to touch their chin to their chest very easily, but I haven't been able to reach my chin to my chest. Something in my body is putting on the brakes. After breathing and heads nods all morning I was able to do this very easily.
Handstand Push-up Post Original Strength Resets 3 Days after the Workshop
On the second day I discovered my weak links when it came to rocking and crawling. Even though I can pistol squat 24kg on both my left and right legs, my right leg is stronger and more stable then my left. I discovered the root of this disconnect in movement and strength when I did single leg rocks on my left leg; again, something else to work on.
At the very end of the second day we worked on crawling. The pattern I discovered with my single leg rocking directly translated into my crawling, which alerted me that I needed to stick with baby crawling (knees on the ground) until I can clean up this movement. The challenges I had with crawling became even more apparent when I went to do a loaded backwards leopard crawl (knees off the ground) and struggled to pull the weight and my left hip flexor cramped up. As soon as I took the crawl down to a baby crawl I was able to manage the load.
Loaded Backwards Crawl at the Original Strength Workshop
Thanks to the Original Strength workshop I was able to identify the root of limitations that I was having with gaining proper movement and strength with my press.
I'm excited to see how incorporating Original Strength resets into my training helps my 24kg press and overall impacts my movement and strength. I'm only two weeks into using the Original Strength System and I have already seen tremendous results, I can't wait to see what two months brings.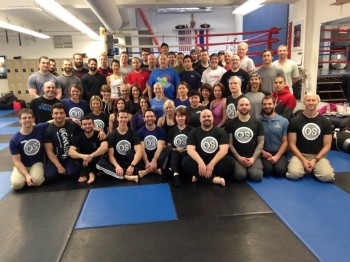 ---