Original Strength Systems continues to develop outstanding Instructors
Categories: In The News Feb 29, 2016
Original Strength Systems of Fuquay-Varina, NC adds depth to its Instructor corps.
[caption id="attachment_6733" align="alignleft" width="350"]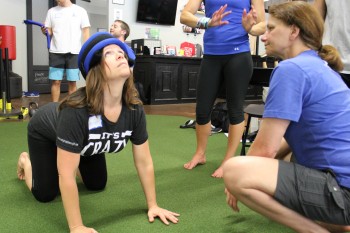 Instructor, Sarah Young (right), assists Physical Therapist and future OS Coach, Julie, with loaded head nods at the OS Pro RESET Workshop in Fuquay-Varina, NC at the OS Institute.[/caption]
This week, Sarah Young of Birmingham, Michigan earned her position as an OS Instructor. This position allows Sarah to bring her years of knowledge and experience as a massage therapist and coach and her MS degree in Exercise Science to the OS Pressing RESET workshops.
OS Master Instructor and Co-owner, Danielle "Dani" Almeyda, said "Sarah is knowledgeable, passionate, and full of the love and hope that embodies what Original Strength is all about." Being an OS Instructor is more than just knowing the OS System, it is about knowing people and wanting to help them improve, added Almeyda.
Sarah's background and amazing knowledge of the human body led her to fall in love with simplicity of Original Strength. After studying with OS Founder Tim Anderson and Co-founder Geoff Neupert for over two years, she wanted to help OS achieve its mission of setting people free through movement and became an OS Certified Coach. She then assisted at numerous workshops throughout the United States and consistently earned great accolades from workshop attendees and fellow instructors.
Anderson believes in Sarah and said "when it comes the human body, Sarah is one of the most knowledgeable people I know. But it is her desire to help others and teach others that makes her rise to the top. I am so glad she is a part of our team."
 
OS is the simplest, easiest to use movement restoration system ever created. People continuously seek a simple and effective way to move better or build strength and OS shows a profoundly simple way to do both. The OS Instructors and Coaches, like Sarah, understand this simplicity and earn their positions as leaders by grasping this concept and enjoy sharing the system and seeing how quickly workshop attendees see results.
Original Strength Systems located in Fuquay-Varina, NC (Raleigh area) teaches people how to move the way their body was designed to move using the human developmental movement patterns. The company helps people restore their strength, allowing people of all ages and physical abilities to do whatever they do, better! Visit OriginalStrength.net to learn more or contact John Usedom (John at Original Strength.net)
If you want to see for yourself how simple it is to live your life better, get to an
OS Pressing RESET
Workshop or find an
OS Certified Coach
trained to administer the Original Strength Screen and Assessment (OSSA) at OriginalStrength.net.
 
---