Original Strength Systems adds first instructor Down Under
Categories: In The News Aug 03, 2016
Original Strength Systems, Fuquay-Varina, NC adds an Aussie to the Certified Instructor Team.
"We are totally pumped to welcome Piers Kwan, owner of QLD Kettlebells, to our team of OS Instructors. Piers has been a solid fan of OS for nearly three years and we've been a fan of Piers since we met him. He's a solid human being with a huge heart and he loves helping people live life better", said Dani Almeyda, OS Managing Partner and Master Instructor.
 
Piers said "
I have followed Tim Anderson and his restorative philosophy since he released Becoming Bulletproof in 2011. When he teamed up with Geoff Neupert on Original Strength I was intrigued and purchased the book, appreciating the way it systematically outlined the ideas that Tim had spoken of previously.
 
I didn't become really, really enthusiastic about it until I was reading some of the reference material from the book, namely, The Well Balanced Child. Upon reading this and understanding what reflexes were being triggered and developed in our body when certain movements were done, and the broad scope of possible application for people from young children all the way through to seniors, I got extremely excited.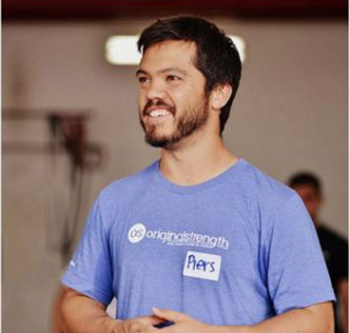 I want to teach others about OS because I genuinely believe that it is the simplest way for people to get significant, long term positive outcomes with their health.
I love that Original Strength is a system for everyone - be they an athlete, elderly, or in between - it just flat out works."
"Piers and I connected like brothers the first time we met and he has been instrumental in helping OS gain recognition in Australia. I especially love his child-like nature and his passion for teaching others. I am truly honored to have a person of Piers' caliber on our team" stated Tim Anderson, co-founder of Original Strength Systems.
OS is the simplest, easiest to use movement restoration system ever created. It is meant to be the foundation of everything a person does throughout their life. Implementing the OS RESETS into your life will allow you to do everything you do better. Be a better athlete, better performer, better student, better professional, better artist, or a better grandparent, whatever it is you do, be better. OS will help you live life better.
Original Strength Systems located in Fuquay-Varina, NC (Raleigh area) teaches people how to teach others to move. We teach a unique method of re-introducing the human developmental movement patterns into a person's life. If you want to teach others to move again and provide them with hope and restored strength, allowing those of all ages and physical abilities to do whatever they do, better, visit OriginalStrength.net to learn more or contact John Usedom (John at Original Strength.net)
If you are ready to live your life better and help others, get to an
OS Pressing RESET
Workshop or find an
OS Certified Coach
trained to administer the Original Strength Screen and Assessment (OSSA) at OriginalStrength.net.
---