Leader in the Movement Restoration niche, Original Strength presses RESET on their top selling book.
Categories: In The News Oct 27, 2015
October 27, 2015 –
Original Strength Systems, LLC practices what it teaches and presses RESET in their newest book
PRESSING RESET – Original Strength Reloaded
. Tim Anderson & Geoff Neupert knew they could do a better job at helping to set more people free through movement, so they completely revised their first book, Original Strength – Restoring the Body You Were Meant to Have.
Original Strength was written by Anderson and Neupert four years ago as the first of their popular movement restoration books. This new book, PRESSING RESET – Original Strength Reloaded, takes what was learned over the last four years and incorporates it as well as many testimonials from people who have tried OS. The new book also has many new pictures (in color on the Kindle version) and has been edited far better than the previous books.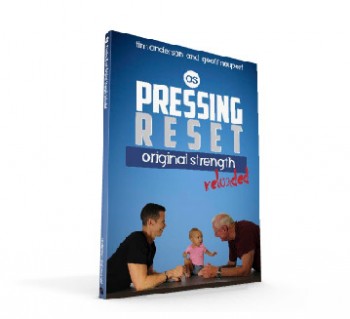 "In Original Strength, we believe in good, better, best. Wherever a person starts is good. From there they move on to better, then best. Original Strength was our 'better.' We started with the book, Becoming Bulletproof - that was our 'good.' Pressing Reset is our 'best.' This book is filled with the knowledge we have gained over the last 4 years along with the wonderful stories and testimonials we were blessed to be included in. This book and the material it contains is truly life changing." said Anderson.
The first of the pre-ordered ordered inventory has already sold out and several hundred more copies have been ordered by Original Strength. The book is available at OriginalStrength.net as well as Amazon and many other legitimate on-line book sellers as well as several other book sellers. The Kindle version of the book will be available for sale on Amazon within the week.
This book includes forwards by Chip Morton, Professional Football Strength & Conditioning Coach, Ken Johnson, Clinic Manager, Johns Hopkins Rehabilitation Therapy Services Clinic and comments from Dan John, Strength Coach and Ethan Reeves Strength & Conditioning Coordinator at Wake Forest University.
Tim Anderson & Geoff Neupert are available to discuss the book and talk about upcoming books in 2016. If you want to arrange an interview with them, please contact John Usedom via e-mail at john at OriginalStrength.net.
Original Strength Systems, LLC of Fuquay Varina, NC, outside of Raleigh, NC, teaches people around the world, how to restore the bodies they were meant to have by reminding them of the source of their original strength. The OS system is the fastest, simplest, and easiest movement restoration system on the planet. Upcoming workshops can be found at OriginalStrength.Net.
Original Strength books and a DVD
are also available on the site as are the OS-Infinity Strap and OS Loop. For more information, please contact John Usedom via e-mail at john at OriginalStrength.net or 984-232- 6678.
---