Central Indiana is home to the newest Original Strength Instructor
Categories: In The News Nov 18, 2015
November 18, 2015 Original Strength Systems, LLC, Fuquay-Varina, NC i
ntroduced America's favorite ninja to its roster of outstanding instructors.
Matt Myers of Force Fitness and Performance and leader of the Ninja Academy in Bloomington, IN was recently welcomed into the OS Instructor family by Dani Almeyda and Tim Anderson, Partners in Original Strength Systems.
"Matt is an amazing guy who truly understands the importance of playing and moving with the creativity of a child. When we first met nearly three years ago, we knew he was something special. His mind never stops thinking of ways to move and explore. His passion is infectious. He brings a whole new level of excitement, challenges and joy to those he teaches and instructs" said Anderson.
When asked why OS, Myers replied "With OS principles, I can help anybody move, feel, and perform better. Even better, they can easily help themselves and learn to trust their movement instincts again. It's a beautiful process I feel fortunate to be a part of!"
[caption id="attachment_5566" align="alignleft" width="350"]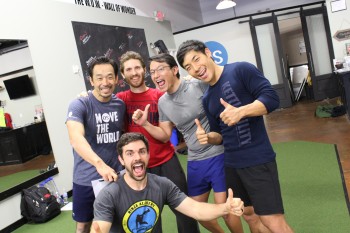 Pictured - (Front Myers, Back L-R - Kazu Tamooka, Patrick Gililov, David Shen, Jinpil Kim) @ a recent OS-Play Class in 2015[/caption]
OS has a tradition of being found by the best of the best and Matt Myers is a perfect example of this. OS considers it a true honor to welcome Matt to the Pressing RESET Instructor team and prays he continues to be blessed with much continued success.
OS has also added more than eight (8) certified coaches around the country in the last month. The complete list of certified coaches can be found at
www.originalstrength.net/find-a-coach/.
Original Strength Systems, LLC of Fuquay Varina, NC, outside of Raleigh, NC, is the leader in the movement education field, reminding people how to restore their individual movement systems. OS offers various books and DVDs as well as a screen/assessment and workshops around the world.
The OS system is the fastest, simplest, and easiest movement restoration system on the planet. Upcoming workshops can be found at OriginalStrength.Net. Original Strength books and DVD is also available on the site as are the OS-Infinity Strap and OS Loop. For more information, please contact John Usedom or john at OriginalStrength.net or 984-232-6678.
---