Original Strength Listed as #1 Strength Training Book
Categories: In The News Jan 10, 2014
ORIGINAL STRENGTH listed as NUMBER 1 STRENGTH TRAINING BOOK by SCOTT IARDELLA'S RDELLA'S TRAINING for 2013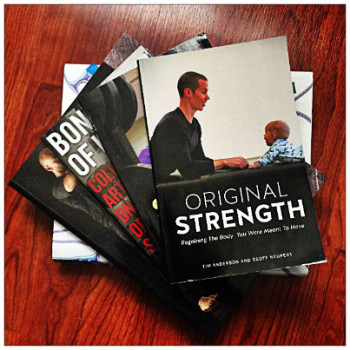 "Original Strength , Regaining The Body You Were Meant To Have" written by Tim Anderson and Geoff Neupert of Original Strength Systems (OS), was named as one of the
Top 5 strength training books
of 2013 by
Scott Iardella
in his second annual ranking of fitness books.
In announcing the best strength training books of 2013, Scott Iardella (MPT, CSCS, CISSN, RKCII/SFGII, SFL, CK-FMS, USAW-L1SP, Pn1, creator of Rdella's Training) said "I love this book because it's simple, useful, and anyone can apply these principles One of the great things about the OS system is how applicable it is to people of so many different levels. From older to younger, high skill level or raw beginner, this simple system is easy to learn and very useful for movement, mobility, and strength".
Tim Anderson said "Scott is a true fitness professional. His passion in the areas ofhealth and fitness education raises the standard for excellence. I am honored to have a professional such as Scott even consider reading Original Strength, much less include it in his top five books of 2013."
Geoff and Tim have each worked in the health and fitness industry for 20 years in various roles including personal trainers, strength & conditioning coaches, owners and operators of their own training facilities, authors, and presenters. Geoff is also one of the nation's top kettlebell trainers.
The development of Original Strength by Neupert and Anderson is based upon their core beliefs that each and every human was built for greatness and adventure which begins with movement. Through Original Strength, users can remember and regain the strength, mobility, and stability they once had as a child. In other words, a solid foundation will be laid from which anyone can build the structure and the body they were meant to have.
 
 
---