55 and Feels Good!
Categories: Stories Feb 03, 2016
I'm 55 and feeling better than I have in at least a dozen or more years. I was a football player and carried with me the aches and pains of the sport - at least that is what I used to think. Up until about three years ago, it was all about lifting weights. Then one of my daughters introduced me to Original Strength and I laughed and kept on lifting weights.

 

Then one day I had done something to my back and my shoulder, even after surgeries, began to hurt. My daughter once again suggested a couple of the OS RESETs. I laughed, but knew I did not want to be visiting the doctor. After a few weeks of simple segmental rolling and rocking, my back felt better and my shoulder did not hurt as much, even though I was still doing some light lifting.

 

Not only was my back feeling better, I was now also able to squat all the way down AND get back up with 225lbs on my shoulders. I had not done this since college days and even then it was iffy. I was also able to do pushups, should presses and bench presses without the pain in my shoulder. My daughter said I "was simply getting my body back closer to the way it was designed to be. Over the years I had been compensating for a variety of issues and those compensations were catching up to me." Today, I'm still about 30lbs over weight, but being able to easily get up and down from/to the floor to play with my grandkids or to carry them on my shoulders for a mile is wonderful.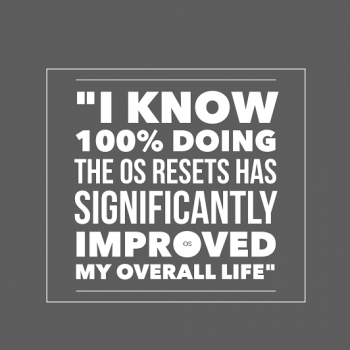 I don't lift like I used to, but when I need to carry or move something heavy, I can and it's an amazing feeling or sense of confidence. I've noticed a number of other changes over the last two plus years since adding the OS RESETS to my daily schedule. I've had issues with dyslexia which seem to be going away, my breathing is better, I sleep more soundly, my memory of details is getting better as are my reflexes. I'm sure there are other factors which come into play, but I know 100%, doing the OS RESETs has significantly improved my overall life and allowed me to become friends with some amazing people around the world. Thank you Original Strength.
---