Piers Kwan
OS Certified Instructor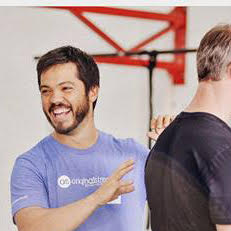 Location:
Queensland Kettlebells
4/62 Didsbury St
East Brisbane, 4169
T: 0403 829 629
Web: https://qldkettlebells.com.au
Piers is an experienced coach and instructor who is sought after for workshops both locally and internationally. He has worked with athletes of all levels and has extensive experience in presenting information both individually and to large groups.  Piers is a StrongFirst SFG 2 who has assisted at numerous kettlebell events with leading instructors.  He has also done his Certified Kettlebell Functional Movement Specialist certification, and his Ground Force Method instructor course. Alongside this he is an accredited coach for athletics and basic gymnastics, and a graduate qualification in Secondary Education.
 I had an English gentleman who ran triathlons come and visit QKB for a couple of weeks. When he first came in he had a very restricted range of motion with his legs, a range that spelled trouble for him if he was to continue his triathlons.  Through the OS screen and application of the principles we were able to see his hamstring range increase 2 fold within the space of a session, with 75% of that range retained 2 days later without anything done in between.
The OS practice has improved my strength training generally, and resulted in my being healthier than I've ever been with a better squat than I've ever had, all while I'm lifting heavier than I ever have.  It's also made teaching my clients to squat a breeze!
Piers Kwan